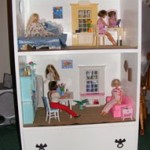 Oh – If only I had a little girl! My 11 year-old son would cover it with skateboard stickers and shoot it with nerf guns.
Fortunately, I met Angie this weekend. She's got the girls, the talent and the friends (shout out to Dawn Marie!)  to pull this off.
I found this on Pinterest, evidently a lot of us think this is pretty great!