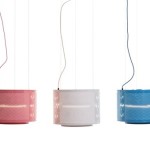 Willem Heeffer, a Dutch designer based in Helsinki, Finland recently shared some of his work with us.  The used washing machine drums are salvaged from a local recycling center and given a new life as a lamp.
"When I work with old materials I take them out of context, use it in an unexpected way to create something new. "
Check out the whole brilliant site!