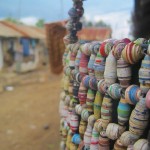 In Swahili, the language spoken in Kenya, Kustawi means, "to thrive".  KUSTAWI is a line of handbags made from hand rolled paper beads which are skillfully created by the students in Right 2 Thrive's Empowerment Program.
The paper beads are made from readily available recycled paper products such as, magazines, posters and calendars.  The class and materials are offered to the students for free, providing community members an opportunity to learn a skill. Students are paid a fair wage for their product, enabling them to earn money to support themselves and their families.
KUSTAWI bags are currently on display in the RJM showroom in New York City.  See more on Facebook.