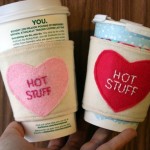 Valentine's Day – Not the holiday typically set aside for handmade / recycled gifts, unless they're from your 5 year-old.   Or so I thought.
Keep your flowers and chocolates – I totally want this.
Maybe a little chocolate, in the form of a mocha – so i can use my new present.
Just in case you're judging me a little for using a paper cup – check this.