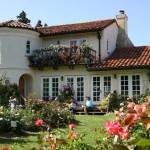 I tried whipping up a batch of rose water using an enamel pot as a homemade still, boiling water, a brick and of course; a bowl of rose petals.
It stunk up my house; something akin to asparagus.
Evidently this stuff has to age awhile and I've never been good at waiting – so… Three of my most fabulous BFFs and I visited The Russian River Rose Company located in Healdsburg, CA – right in my own back yard.
We signed up for the Perfume Rose Harvest Tour and after a little instruction we were out in the rose fields harvesting baskets full of roses – it was incredible! It doesn't take long for you to discover that your tour guide is a gentleman farmer well educated in history, chemistry, economics, advertising and of course; all thing roses.
Your group stuffs the homemade still with rose petals and is rewarded with a cup of hot tea and an interesting demonstration and education.
By the end of the morning you'll have made a mason jar of rose water! Your host will let you test some aged rose water (remember; asparagus) on each other – hilarity ensues!