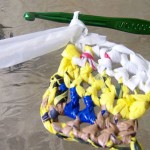 Plarn – Have you heard of this stuff?
Evidently last night while I was sleeping there was a plarn revolution.  Yesterday I'd never even heard the word, and today it seems it's EVERYWHERE!
Plarn (plastic yarn) is made from plastic grocery bags cut into strips then crocheted to create virtually anything – In this case we're using a grocery bag to create … a grocery bag. 
Check out this link for a tutorial on how to create your own ecofriendly shopping bags.
DYK: It takes 1000 years for a plastic bag to decompose in a landfill?