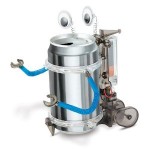 We were strolling the grounds of the Real Goods Solar Living Institute located in Hopland, CA this afternoon and eventually wandered into the gift shop.  There are loads of amazing things and among them – a working tin can robot!
It's best to plan a visit and tour the gift shop, but if not – you can always pick it up here. 
We had such a good time that I am including a link to yelp.com so you can read what other visitors had to say!