Saturday, August 6th, 2011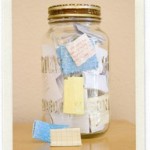 In honor of our family reunion today, I'm drinking my morning coffee from my 1996 Giuseponi etc. commemorative family reunion mug.
Eating, laughing and several choruses of "You Are My Sunshine" and "Que Sera Sera" played on the mandolins are sure to fill a jar like this to overflowing.
I love this idea – thanks for the inspiration inchmark.squarespace.com!