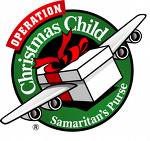 Tomorrow kicks off the national collection week for Operation Christmas Child – although for many of us this project actually begins in July, when it's still hot outside and most people aren't thinking about Christmas.
A small group of us gather each Wednesday to wrap shoeboxes to look like Christmas presents. As each Wednesday follows the next, the weekly tasks turn from wrapping boxes to sorting, counting and packaging soap, wash cloths, tooth brushes and toothpaste into ziplock baggies.
Next is school supplies, hairbrushes, socks, candy and of course toys and a special stuffed animal.  Last to be included is a short note to the receiving child letting them know that even though we have never met, there is someone out there that is thinking about them and praying for them.   And most of all, we want to tell them that Jesus loves them so very, very much.
You may wonder what this has to do with upcycling – I could take the easy road and say that we turned an old shoe box into a Christmas present – but it's so much more.
Today our small church exchanged our normal Sunday morning service for a box packing service – everyone of every age participated.  Two hours and 1200 shoe boxes later we had turned a small congregation into world-wide missionaries, sending hope to children all over the world.
Learn more about Operation Christmas Child